Keesing's objective is to help organisations prevent ID document fraud and counterfeiting by providing the world's best authentication solutions.
To be able to prevent fraud, familiarity with the technical details of ID documents is essential. Specimen documents play a key role in acquiring this knowledge. Although a specimen document carries fictitious personal details, it possesses all the security features of its real counterpart. Keesing facilitates this familiarisation through its reference database Documentchecker with a comprehensive collection of specimen ID documents. With Documentchecker we aim to educate authentication individuals and help prevent criminal abuse of ID documents.
Users around the world verify the authenticity of ID documents with the help of information derived from the Keesing database. Our commitment for excellence in quality, ensures this information is complete, up-to-date and accurate. To achieve this, Keesing closely cooperates with government agencies, issuing authorities, embassies and consulates.
Keesing very much encourages the distribution of specimen ID documents: Only if specimens are readily made available can personnel responsible for authentication familiarise themselves with document specific security features.The cooperation of governments and issuing authorities in this is fundamental in the fight against document fraud.
Take this important opportunity to aid ID document authentication and help people all over the globe prevent fraud. Share your specimen documents with us to further expand the essential information provided by Documentchecker to its users worldwide.
 Please contact our special team of Document Acquirers for further information.
Why share specimen documents with Keesing?
It is important that document knowledge is distributed widely, not only to dedicated document verifiers and authentication officers, but especially to individuals in organisations that frequently do ad hoc ID checks such as recruitment agencies and liquor stores. These individuals often do not have access to sufficient training to perform these checks adequately. Documentchecker is a versatile tool that tells individuals, specialists and automated systems alike exactly what to look for and focus on during document authentication.
It is of great value to have reference material of all ID documents currently in circulation, not merely for our clients but also for our society and life in general. This social responsibility, Keesing wants to share with you in order to prevent and combat fraud on a global scale. We contribute by striving to offer a reference database that is as comprehensive as possible and your organisation can help to ensure that this benefit will permeate through various levels in society. By submitting your specimen to Keesing you will have the opportunity to contribute to a world free of ID document fraud.
Keesing's Document Acquisition Department is dedicated to ensuring that specimen documents can be submitted in the most straightforward and secure manner. Please contact the acquisitions team for further instructions on how a specimen, series or kit can be submitted.
Join Keesing in preventing and combating fraud with ID documents and share your specimen documents with us and the rest of the world!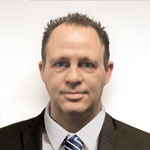 Ruud has accumulated extensive knowledge of ID documents. He is an expert in the field of ID document authentication. For many years, he has worked in government positions at the Dutch Immigration Office and the Forgery Department at Schiphol Airport.