Deutsche Post offers its customers a service whereby it checks and verifies the identity of a given individual before he or she is extended a service by that customer. Think, for example, of a web store that wishes to open an account for someone, or a business that has sent its client a package for collection. The identity check allows Deutsche Post staff to determine – quickly and easily – whether the parcel in question is intended for the person who has come to collect it.
As part of the check, the client's age can also be verified before the package is handed over.
By offering and conducting identity checks, Deutsche Post is able to meet growing demand for security-related services among businesses and consumers alike. Demand is additionally fuelled by the need for organisations to comply with prevailing legislation. German corporations are – among others – required to meet anti-money laundering regulations as well as legislation aimed at child protection (Jugendschutzrecht). The former requires companies to establish the identity of their customers before a financial transaction is initiated. As a Deutsche Post employee explains:
"If we did not meet legal requirements and fail to provide a reliable ID check, we would clearly not have as many customers as we do. Our clients must be able to depend on the security of our identification and inspection processes, and they can."
Documentchecker for improved efficiency
The identity checks conducted by Deutsche Post form part of its Postident service, which uses an architecture based on certified processes. Postident has been available at Deutsche Post offices for years, and is widely used by the organisation's postmen. However, the growing diversity of ID documents has made the task of identification increasingly difficult. What the Postident system lacked were examples of ID documents and information relating to their security features – in short, reference material. Following extensive research, Deutsche Post selected Keesing's Documentchecker solution, which combines first-class content with seamless data delivery.
At the heart of Keesing Documentchecker lies an extensive database containing digital reference material for nearly all ID documents currently in circulation. The interface between Postident and Documentchecker was up and running almost immediately. As a result, Deutsche Post employees were – and are – able to retrieve all the necessary reference material, including visuals. Irrespective of whether they're presented with a German driver's license or a Romanian passport. Documentchecker instantly displays images of a specimen document, as well as its most important security features. The tool is highly intuitive to use, and can be deployed without prior training.
Download the Deutsche Post business case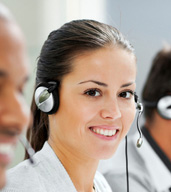 Contact us
Sales & Consultancy Department
+31 (0)20 7157 825
To find out what our solutions can do for your organisation and for further information, please feel free to contact our team of Sales Consultants.