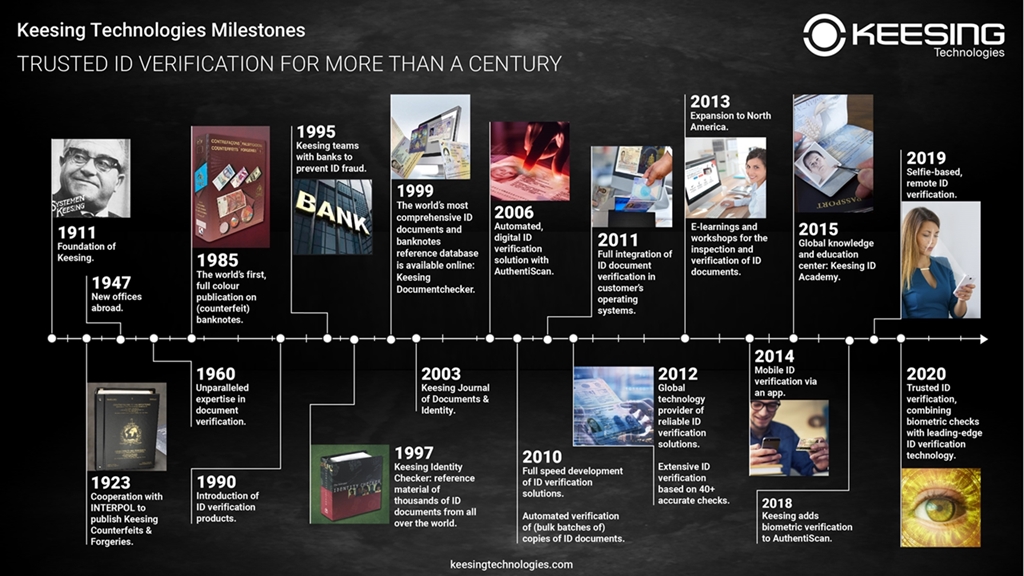 The story of Keesing Technologies began in 1911 when Isaac Keesing started a publishing house in Amsterdam by the name of Keesing Systems. In August of that year, Keesing published the first edition of the Keesing Financial Archive. New offices in France, Belgium and the United Kingdom followed thereafter, with Keesing's network in the financial and governmental sectors picking up. The world at the time saw a rise in fraud with counterfeit money. Confronting this upsurge, Keesing collaborated with Interpol on the world's first publication for banknote verification, Keesing Counterfeits & Forgeries, in 1923.
The years that followed saw Keesing's manual being further developed into the European standard for reference material on detecting counterfeit money and preventing fraud. The company expanded ambitiously, with Keesing building up a broad global knowledgebase of banknotes. As intercontinental travel became more popular and the need for a reference resource on travel documents arose, Keesing built a new database for ID documents. Keesing's expertise and information on ID documents grew fast, and its product segment for ID verification began developing at full speed.
By the time the 2000s rolled around, identity fraud had become a serious worldwide problem. Growing with it was the global demand for ID verification tools. That caused Keesing to begin concentrating product and business developments on its ID-verification segments, transforming itself into a technology provider. In subsequent years, Keesing developed a range of cutting-edge ID-verification solutions and began serving thousands of customers worldwide. Keesing then started offering organizations a fully automated ID verification solution that simultaneously enabled them to manage regulatory, financial and reputational risks. In 2015, the company evolved into its present-day status as a global technology provider and furthered its expansion with an in-house team for developing new technologies in digital ID verification and identity proofing.
For a full timeline on Keesing's long history, click here.