Persgroep Distributie has inspected ID documents for many years now, and the recent introduction of more stringent illegal working legislation has necessitated even tighter controls. To meet these requirements, Persgroep Distributie has introduced a highly reliable system for checking the validity of ID documents presented by freelance workers, including distributors and newspaper deliverers. As distributors are responsible for the recruitment of their own delivery personnel, they were asked to participate in training courses covering document inspection and verification.
Persgroep Distributie (formerly known as PCM Distributie) forms part of Persgroep Nederland, which publishes several leading national daily newspapers, including Volkskrant, AD, Trouw and Het Parool.
The aim of the course was to teach distributors how to verify the authenticity of ID documents presented by (potential) newspaper deliverers. It's up to the distributor to perform an initial inspection of the ID document. A copy or scan of the document is subsequently forwarded to Persgroep's Distributor Administration department, which conducts a more detailed check using Keesing's online AuthentiScan application. In the words of the Head of the Logistics Support Department, "AuthentiScan allows us to establish the authenticity or otherwise of a given ID document. If we inadvertently discover that someone is not allowed to work in the Netherlands we will immediately notify the distributor  Obviously the person in question will not be allowed to start working . We leave the rest to the Dutch Military Police.
The organisation not only checks the ID documents of newly recruited deliverers. Persgroep Distributie has used AuthentiScan to perform identity checks since 2005. As the Head of the Logistics Support Department explains, "We started by checking the IDs of deliverers appointed by our distributors. However, we also used AuthentiScan to check the IDs of all freelance employees, albeit retrospectively. To achieve this, we set a deadline by which all documents had to be verified. As it turned out, the number of people without proper documentation was very limited. Again, the individuals in question, some of whom had already worked for our distributors, were dismissed.
Finally, AuthentiScan provides us with a list of ID documents that will expire within 20 days. After the expiry date, foreign deliverers will not be allowed to work until they have shown a new and valid ID. Based on this list we regularly receive new ID documents from deliverers. If we discover there's something wrong with the new ID or the person is not allowed to work in the Netherlands anymore, the distributor will be notified immediately by the regional manager, requesting an immediate replacement. This person will be registered on a black list.
Fraud prevention using AuthentiScan and document training
The combination of AuthentiScan and training enabled Persgroep Distributie to find a systematic means of tackling ID fraud. To keep the system working, distributors are regularly sent on refresher courses. In the end, the distributor is, of course, in the best position to spot counterfeit documents. The Head of the Logistics Support Department: "It's a preventive programme, but without being consciously aware of it, you become a document expert. For example, one of our colleagues in the Administration department has been working with AuthentiScan for a while now. She's able to recognise some counterfeits as quickly as the system. That said, we couldn't do without it, if only by virtue of its ability to check the machine-readable zone (MRZ). It's a very effective check that brings most forgeries to light, but we couldn't perform it manually. We also come across low-quality forgeries, where a new photo has been glued on top of the original. But we also encounter high-quality forgeries that cannot be detected with the naked eye. The system allows us to be confident about the authenticity of a given document. It takes a decision and removed an element of doubt."
The head of the Logistics Support Department is responsible for all internal PCM staff, including the those deployed in the Administration department. "As a publisher, it's our responsibility to ensure that the people who work for us have the correct ID documents, and that they're not working illegally. If we don't live up to this responsibility, it will reflect on the distribution arm, and even the individual titles that we deliver. The fact that we work with freelancers does not change this. We deliver approximately 10 titles and work with 1500 distributors so it's important that we get this right."
To date, Persgroep Distributie has used AuthentiScan to check more than 70.000 documents. This number is partly explained by the high level of turnover among freelancers. The organisation has been able to avoid illegal working, and all related fines. To put a figure on it, it's estimated that AuthentiScan has saved Persgroep Distributie fines totalling millions of euros. The Head of the Logistics Support Department explains: "We initially used AuthentiScan to check the documents of existing deliverers, permanent as well as temporary. At the time, officials of the Health and Safety inspectorate would visit us once a month, on average. The system we've introduced also has a preventive impact, and the number of forgeries we encounter these days is nearly zero. It's worth bearing in mind that some fraudsters are already intercepted by our distributors, so we don't encounter these."
Openness about recruitment process discourages fraudsters
When recruiting new deliverers via flyers, newspapers and posters, the organisation clearly communicates the minimum age requirement and the documentation that candidates are expected to provide. All recruits are asked to bring their original ID document when enrolling. Says the Head of the Logistics Support Department: "By being clear in our communications, and by explaining that we will check ID documents, we're able to keep fraudsters at bay."
Checking ID documents improves reputation
The policy decision to check ID documents not only protects the organisation's reputation, it can also enhance it. "The Health and Safety Inspectorate is aware of the measures that Persgroep Distributie has introduced. And the fact that the organisation has made a concerted effort to stamp out crime has, in the past, helped it during legal procedures (it was able to demonstrate that extensive preventive measures had been put in place to prevent ID theft). "We check documents for two reasons: to comply with legal requirements and to avoid financial losses."
Whatever happens, newspapers must be delivered!
While it's obviously important to avoid fines and comply with legal requirements, Persgroep Distributie has a clear requirement to ensure that newspapers are delivered in the right place and on time. The Head of the Logistics Support Department elucidates: "Our remit is to make sure that the newspaper is delivered to the subscriber or reseller on time. Morning issues have to be delivered by 7 am, when most people are still asleep. More than a million newspapers have been delivered by the time they wake up.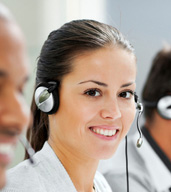 Contact us
Sales & Consultancy Department
+31 (0)20 7157 825
To find out what our solutions can do for your organisation and for further information, please feel free to contact our team of Sales Consultants.