Mr Smith and Mrs Green have decided to buy a house together. They've agreed that the mortgage will be registered in the name of Mrs Green. Unfortunately, Mr Smith and Mrs Green decide to part ways before the sale is finalised. On the completion date, Mr Smith asks a random female to accompany him to the notary's office, where she pretends to be Mrs Green. The mortgage deed is signed and the bank releases the purchase amount.
After a while, Mr Smith stops servicing the mortgage, and before too long a bailiff visits the real Mrs Green at her home. She obviously has no idea what's going on, and it transpires that the signature on the document is not Mrs Green's. The losses incurred by the bank and the misery heaped on Mrs Green are considerable.
The ID fraud described here impacts the lender, the person whose identity was fraudulently used and the notary who arranged the transaction. Serious cases of fraud often lead to negative publicity, and the resulting impact on the notary's reputation is enormous. To prevent fraud, and the losses it gives rise to, a growing number of organisations now check ID documents as a matter of policy.
Passport diversity
Although the Amsterdam-based practice of notary Hélène Faasen has many loyal customers, the organisation regularly deals with new clients. As a result, it's required to check a wide variety of passports. Hélène soon realised that verifying less common passports is not always easy. What, for example, should you look out for on a passport issued by the Sri Lankan authorities? Hélène Faasen: "The requirement for compulsory identification is a good idea, but I'm not always sure about the document that I'm required to check. I'm comfortable with Dutch passports, but this confidence soon evaporates when I'm asked to check a foreign document. Often I'm not sure what a document should look like, or what I should be mindful of. You conduct a visual inspection, but that limits you to the security features that you can see with the naked eye. In the past, we also copied the document for our records."
To improve her inspection skills, Faasen considered following a training course in ID verification. However, during the course, she discovered that she was colour blind. "I noticed that I had great difficulties seeing certain characteristics, such as discolouration." As the organisation was regularly required to check foreign ID documents, and to comply with legal requirements, Hélène decided to take the threat of ID fraud more seriously. She trawled the internet for useful inspection and verification tools, and came across the Keesing website where she discovered AuthentiScan. This was over a year ago, and Hélène has worked with AuthentiScan ever since: "AuthentiScan is an online application, and I really liked the ability to instantly access a database with details on an enormous variety of ID documents. I can now see what a passport from, say, Malawi should look like. The ability to consult a reference database makes me feel far more comfortable about the authenticity of a given passport. As I familiarised myself with AuthentiScan, I realised that I wasn't inspecting Dutch passports nearly as well as I could. I don't think I would have intercepted a good forgery of a Dutch document."
Hélène Faasen's notary firm is located in a lovely building in the historic part of Amsterdam. She runs a general practice, and offers a wide range of notarial services, focusing on property and family law. Hélène's team consists of several highly experienced and conscientious staff.
Copies of documents can and do go missing.
Initially, Hélène's colleagues were a little wary of using AuthentiScan, mostly because it was 'yet another thing to do'. That said, everybody soon accepted the system, which, in combination with the bespoke passport reader, proved very easy to operate. The document reader automatically retrieves data from the document, avoiding errors that are sometimes made when data is entered manually. The system not only speeds up the inspection process, it also generates an audit report containing details of the actual document and the client in question. Faasen: "The system allows us to demonstrate that we've inspected a given document, creating an audit trail. There are many different authentication guidelines and requirements (compulsory identification and the obligation to report). Once we've inspected an ID document, we add a printout of the audit report to the client file. The report is also available digitally as details of each document inspected are automatically stored. This allows us to establish a digital file for each client. A physical copy can get lost."
Everyone in the office can use AuthentiScan. Faasen explains: "We check each client, irrespective of nationality or transaction type. The law stipulates different identification requirements, depending on the transaction type. However, checking the type of transaction and the ensuing requirements would take more time than it takes to check every client using AuthentiScan. This helps to avoid misunderstandings, and ensures we've met our legal obligations. "
Part of the office system
Hélène Faasen's clients have no problems with the ID check. That said, Hélène reiterates that checks should ideally be conducted at the appropriate stage in the overall process: "We ask for the client's ID when he or she arrives, and check the document while he or she is in a meeting. No-one is required to wait while the document is inspected. The ID check is very much embedded in the office process. I've noticed that clients are generally impressed that we take our work seriously. They recognize the value of an ID check, and it gives them confidence in our approach. It's actually become part of our service offer. "
Nowadays it's accepted business practice to check client data. In the old days, however, this simply wasn't done – people knew each other, and the local notary certainly knew you. Today's society is more diverse and dynamic. And whether we like it or not, the increase in recorded crime in recent decades necessitates tighter checks. People are also more aware of the losses that fraud entails. According to Hélène Faasen, ID checks are not just of relevance for city-based firms. After all, fraudsters are constantly developing new techniques and methods, and if they're not successful in Rotterdam, they'll simply go elsewhere and try again. Faasen: "Although we run a commercial business, we are, above all, a firm of notaries. And that means we want legal certainty. ID checks are indispensable in that respect. Of course, it's up to individual firms to determine how best to perform such checks.
Staying clear of the wrong circles
According to Hélène Faasen, many notaries still inspect documents with the naked eye. Likewise, many still keep a photocopy of the document only. "I'm not sure whether a quick glance at a document and the inclusion of a photocopy in a file constitutes an adequate ID check. Particularly if you consider the enormous losses in terms of time, energy and money that ID fraud can involve. You don't want that. As a notary, you want to stay out of the wrong circles. I think it's naive to think that you always know who you're dealing with. All the more reason to use AuthentiScan – a system that gives you peace of mind."
Hélène Faasen is convinced that AuthentiScan also prevents crime. "Although we were lucky enough not to be confronted with frequent fraud, I'm convinced that the system also prevents attempted crime. Prior to offering legalisation services, for example, we always explain that we'll check the client's ID document. There have been times that we've never heard from an enquiring party again."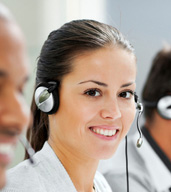 Contact us
Sales & Consultancy Department
+31 (0)20 7157 825
To find out what our solutions can do for your organisation and for further information, please feel free to contact our team of Sales Consultants.