Afbeeldingen van de meest gebruikte Nederlandse identiteitsdocumenten
QuickCheck ID
Contact
Praktische tool voor het controleren van de echtheid van identiteitsdocumenten
Per 1 november heeft de Nederlandse overheid het nieuwe rijbewijs in omloop gebracht. Ter gelegenheid hiervan heeft Keesing Technologies een nieuwe versie van de Keesing Quickcheck ID Nederland gelanceerd. In deze versie is dit nieuwe document opgenomen.
Unieke aanbieding
De Quickcheck ID Nederland is tijdelijk beschikbaar voor slechts €18,50 (minimale bestelhoeveelheid 10 exemplaren).
Profiteer vandaag nog van deze unieke aanbieding en neem contact met ons op.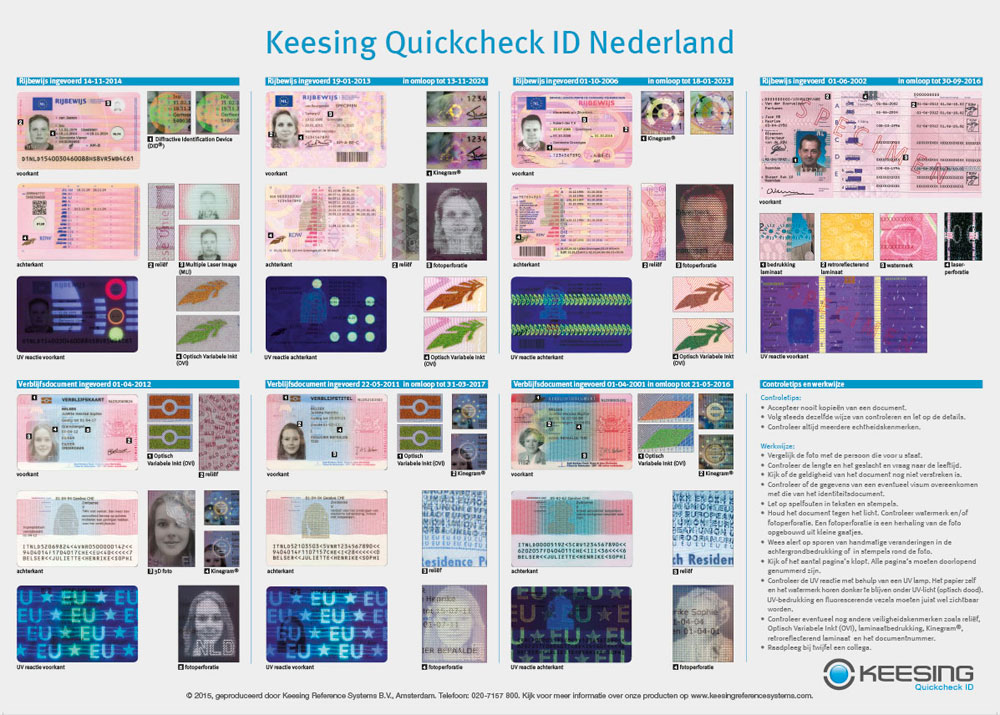 Keesing Quickcheck ID Nederland
Praktische tool voor het controleren van de echtheid van identiteitsdocumenten
Geplastificeerde, dubbelzijdige onderlegger op A3 formaat
Afbeeldingen van de meest gebruikte Nederlandse identiteitsdocumenten
Afbeeldingen  veiligheidskenmerken zoals UV-reactie, watermerk en hologram
Tips en aanwijzingen
Handige onderlegger voor de controle van identiteitsdocumenten
Dit paspoort. Hoe weet ik of het echt is? Het rijbewijs lijkt in orde. Maar waar moet ik op letten? Steeds meer organisaties vragen medewerkers, klanten en bezoekers om identificatie. U moet dus snel kunnen zien of het identiteitsbewijs dat u krijgt aangereikt, echt is.
De Keesing Quickcheck ID is een praktische onderlegger (A3-formaat) met een overzicht van de meest gebruikte Nederlandse identiteitsdocumenten, zoals het paspoort, rijbewijs en de identiteitskaart. Van alle documenten zijn de belangrijkste veiligheidskenmerken afgebeeld, zoals de UV-reactie, het watermerk en hologram. De Quickcheck bevat bovendien praktische tips voor het zorgvuldig uitvoeren van controles.