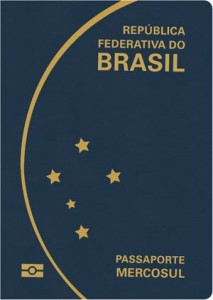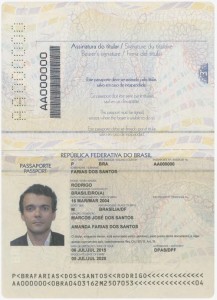 This new national Passport of Brazil, is issued since July 10th 2015. Compared to the previous national passport this document contains a contactless chip in the back cover that meets the ICAO specifications. Besides the chip the validity of the document has been changed from 5 to 10 years.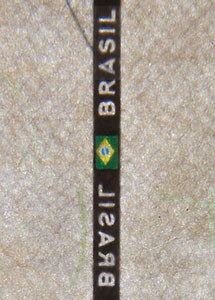 On page 2 you will find a clear holographic laminate, not sewn in and not covering the whole page. This document shows 1 picture of the holder on the left side of the biographical data page, applied by inkjet printing. Like the picture, the other variable details are also applied by inkjet printing. All pages contain visible red, blue and green fibres. Besides the visible fibres you will find a security tread with micro text in all pages.

On the inside front cover you will find the letters BRA, applied with Optically Variable Ink (OVI). OVI Ink containing optically variable pigments that generate a noticeable colour change (shift), depending on the angle of view and/or incidence of light. This is a anti copy device because after copying the document, the colour is not shifting anymore. Finally on the inside back cover you will find a latent image (on the right side) consisting of the word BRASIL.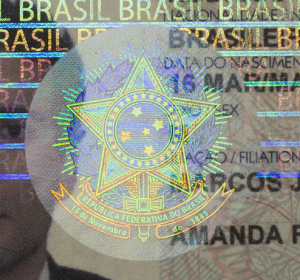 If you want to learn more about this and other new documents, apply for a free trial account on documentchecker.com