The new online information source for and by anyone involved in the security document and identity management industries.
Keesing Platform is an online resource for prominent daily news and thought leadership for and by anyone involved in the identity management and security document industries. The platform covers industry-related content about the printing, design and issuance of security documents, such as ID documents and banknotes, as well as topics such as identity verification solutions, identity management, border control, REAL ID, digital identity, biometrics, fraud prevention and industry events. The new media source is unique in its kind, bringing together different industry players and offering them the perfect platform to discuss and share the latest trending topics and news with their peers.
Established industry expertise and cutting-edge knowledge: from KJD&I to the Keesing Platform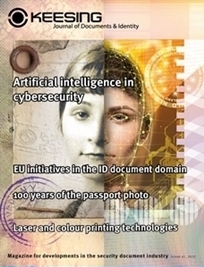 For over 15 years, Keesing published print journals with readers and contributors from all over the world. The company published the first edition of the bi-monthly Keesing Journal of Documents and Identity (KJD&I) in 2004. The journal quickly gained a solid readership and blossomed to a steady global circulation of 3,000 copies per issue. Over time – and especially during the last few years – the journals quickly started to cover other relevant topics related to identity management such as biometrics, authentication, identity proofing, blockchain, crypto technology and digital onboarding. Meanwhile, the demand for digital publication was growing.
To this end, the company bundled and digitised all KJD&I articles and took the chance to aim for a much larger audience with easy accessibility as well as a wide variety of relevant news items and articles in the form of the digital Keesing Platform.
Visit, subscribe and contribute to Keesing Platform
Visit our platform today to stay up to date with leading content on the world of verification. As our content is written for and by professionals from the security industry, we likewise invite you to share your voice and contribute to the platform as well as sign up to our newsletter to have Keesing Platform delivered right into your inbox.
Order previous issues of the Keesing Journal
To order hard copies of or learn more about past issues of KJD&I, click here.